ION: light that speaks
Ion is a light show for your desk, dorm room, or living room. It responds to music, connects to your phone, and brightens your day!
$199
CURRENTLY OUT OF STOCK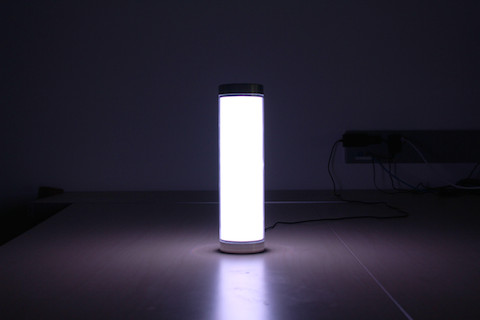 Why
When setting out to build ION, we wanted to create something fun and beautiful. We love light and music, so we knew our device had to incorporate both. We've been working to push the boundaries of what can be done with LED lighting, and we're very excited to showcase our creation.
Throughout the last nine months, we've developed 3 different designs of ION, and each time we've raised the bar.
Choose Your Mood
Out of the box, ION ships with more than 15 base moods, each fully customizable with the ION app. Mood options include color, speed, brightness, and several others. Customized moods are saved and stored on your ION. Additional moods are in development and will be available via wireless software updates. Check out a few of our favorites!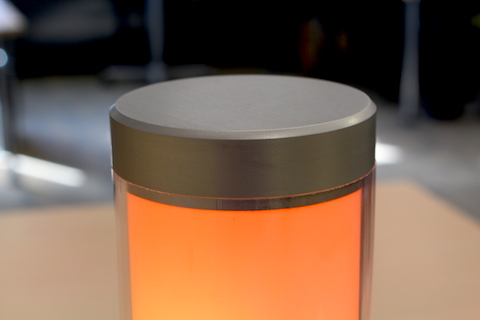 Go Ahead, Touch It
Even without a smartphone, ION is easy to use. Simply tap the machined aluminum top to cycle through moods. We call this the rotation.
OFF → Solid Light → Mood 1 → Mood 2 → Mood 3 → OFF
Using the ION mobile app, you can easily add, remove, and customize moods in your rotation. More detail below.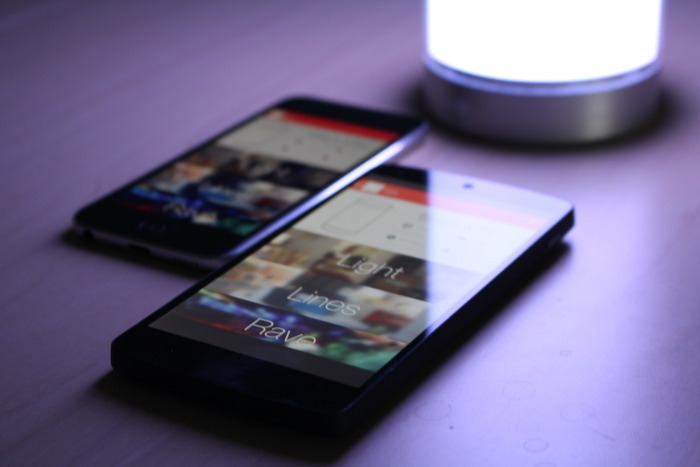 App Control
ION can be controlled using an iPhone or Android Phone(>=4.3)
You can browse moods and change the color, speed, and many other settings!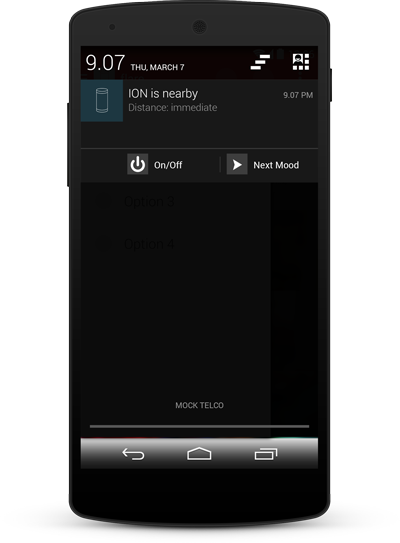 Mood Browser - Find new moods and customize them. Swiping up and down on the browser loads in a new mood. Many moods also have customizable settings (color, brightness, speed, etc).
Mood Rotation - Out of the box, most moods are accessible by simply tapping the top of Ion. Each tap jumps to the next mood in your rotation.
Shuffle Mode - No need to settle on one mood. Turn on shuffle to have ION switch between moods every few minutes. The shuffle duration can also be configured from the app.
Leash mode - Assuming you keep your phone on you, enabling leash mode will allow ION to know if you're nearby. ION will automatically turn itself on when it detects your presence. Walk away and ION powers itself down to conserve power.
Android Notification Bar - Control ION without ever opening the app. Enable notification bar control to turn ION on/off and toggle between moods any time you're near your ION.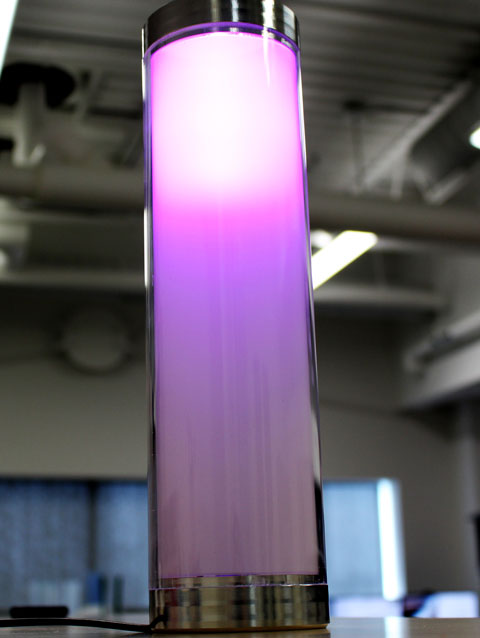 Notifications
No more wondering if that was just a phantom vibration in your pocket or someone trying to make dinner plans. Link ION with your phone and set a custom notification color and light effect for any of the following:
Text Message
Multimedia Message
Calendar Notification
Voicemail
Google Hangouts
Alarm Clock
Incoming Call
Missed Call
Gmail
Facebook
Facebook Messenger
Google Plus
Twitter
WhatsApp
Snapchat
Skype
Kik
Google Voice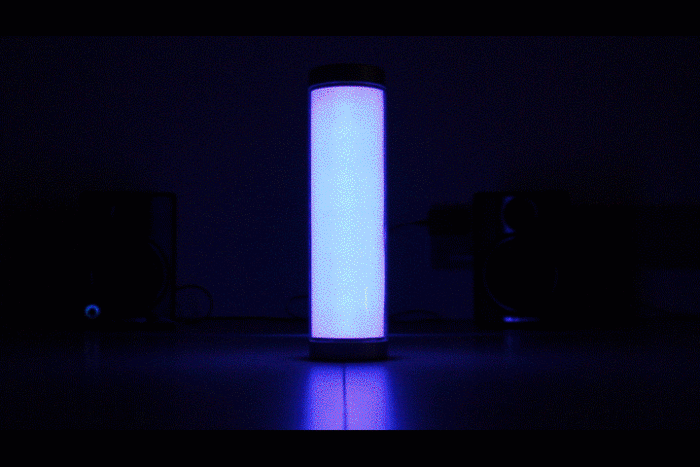 Your Personal Light Show
ION loves music as much as you do. With a built in microphone, ION syncs up with your favorite songs and puts on a show. In music mode, each song you play has a unique "color profile" generated on the fly. Every time a beat is detected (kick drum, bass, etc), you'll see a bright pulse of light. Using the app, you can customize the emphasis of each color as you see fit.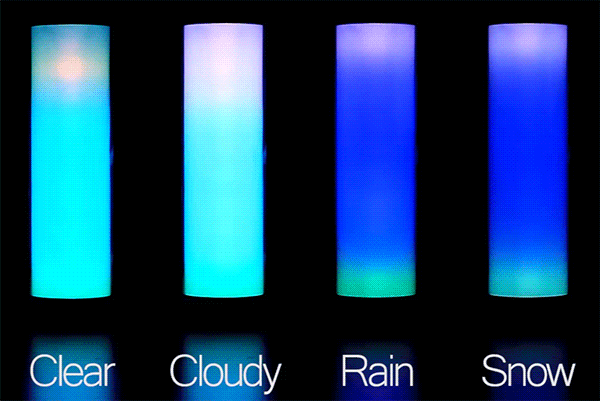 Weather & Time
Using your phone's Internet connection, ION emulates the weather conditions outside. Or if you prefer, ION will display your daily forecast. Depending on the time of day, you may even see the sun or stars come out.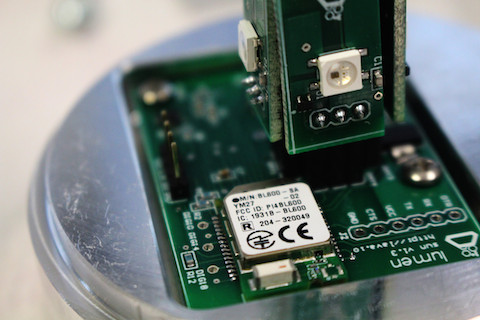 We <3 Developers
Interested in controlling ION from your Raspberry Pi, App, or Satellite in Geosynchronous Orbit? We've got you covered! In order to create our Try ION website we began developing a Node.JS library called "ionode". Ionode allows you to change modes, trigger notifications, and set configuration parameters of your ION. Currently Ionode is supported on Linux devices with Bluetooth Low Energy. There are several low cost BLE dongles (like this one) supported by Linux if you don't already have one. Ionode will be released shortly after this Kickstarter on GitHub.
We are also building out iOS and Android libraries so that you can build apps that integrate with ION. We can't wait to see what you create!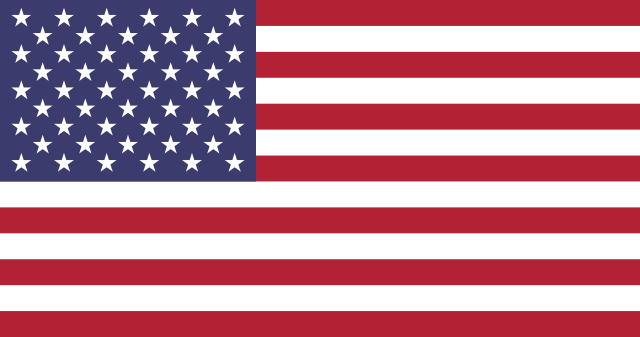 Proudly Made in America
When setting out to build ION, we knew we wanted to manufacture and assemble them here in the United States. Being based out of Flint, Michigan, we've seen what happens when manufacturing jobs move overseas. There's no secret formula to why it's cheaper to build products outside of the US - workers are paid far less than they should be.
To help reverse this trend, we are working with many local companies to make ION a reality.
Alro Steel - Flint, MI - Aluminum for Ion's Caps
Barch Designs - Port Huron, MI - CNC Machining of Caps
Amtech Electrocircuits - Troy, MI - Circuit Boards + Assembly
ePlastics - San Diego, CA and/or US Plastic - Lima, OH - Acrylic Tube
McNichols Polishing & Anodizing Inc - Redford, MI - Anodizing
Lava (that's us!) - Flint, MI - Final Assembly